6.6 Other Private Collections
Dutch paintings as well as the traditional Dutch themes of landscape and genre painting also played an important role in other collections of the second half of the 18th century that are known to us from auction catalogues. Nevertheless there are numerous variations, given that the cataloguing is not always equally precise. In so far as the collectors can be classified by profession, they included not only artists, such as the court painter and Kunstkammer director Wahl and the painter Johan Mandelberg (1730-1786), but also large numbers of lawyers and officials who engaged in historical studies in Denmark. These included the former secretary of justice and member of the High Council (Højesteret) Terkel Klevenfeldt (1710-1777), who carried on genealogical studies, just like Tycho de Hofman (1714-1754) and Peder Benzon Mylius (1689-1745), who had been active a generation before [1].1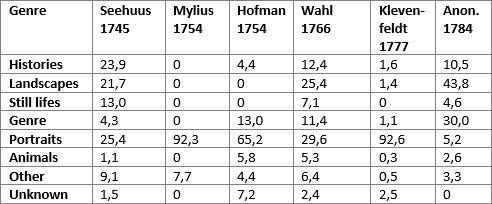 1
Breakdown by subject (in %)
After studies in Germany and sojourns in Holland, Paris and England, Hofman wrote a book about the Lives of Some Deserving Danes,2 whereas he later collected manuscripts and wrote about Danish history as Secretary in the Danish chancellery and later in the High Council and Judiciary Council. Interestingly, portraits of Danish personages dominated the collections of three historians, Klevenfeldt, Hofman and Mylius. Other collections instead show larger components of landscapes, genre pictures and in some cases also histories [2].3

The only collection dominated by things Dutch is an anonymous one of 1784, with the collections of Wahl, Dr. Johannes Colsmann (1771-1830) and Nicolai Steemann (†1796) also showing substantial components of Dutch and Flemish provenance. Finally, as in the other collections of painting, there were pictures of unknown provenance most of which must have been produced locally. By contrast the collection of historian Peter Friedrich Suhm (1728-1798), who left his immense book holdings to the Royal Library and published an artist lexicon written by Bertel Christian Sandvigs (1752-1786), contained only Dutch landscapes with portraits drawn from Danish history. In addition, both here and in other collections, there are a large number of pictures of unknown origin which are mostly likely to have been local copies. In addition pictures of German and especially North-German artists, and naturally also Danish ones , increasingly played a role [3].

In his collection, Salomon Wahl combined 58 works of his own (especially portraits) with works by Danish (Knut Niels Benstrup, Carl Marcus Tuscher) and North-German (Franz Werner Tamm and Balthasar Denner) contemporaries. The remaining paintings of Flemish and Dutch provenance presented the canon already familiar from the collections of Moltke, Morell and Thott. The same painters and their characteristic subjects were also priced by Nicolai Steemann as well as by an unknown collector whose collection was auctioned in 1784. Dutch artists were less widely represented in the collections of Terkel Klevenfeldt and Colsmann, with Klevenfeldt possessing seven portraits by Jacob Binck, eight by Karel van Mander III and 17 by Abraham Wuchters.4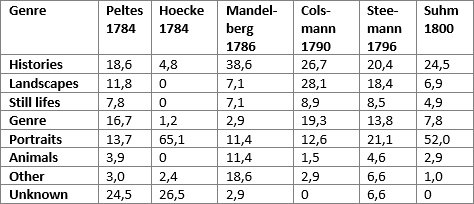 2
Breakdown by subject (in %)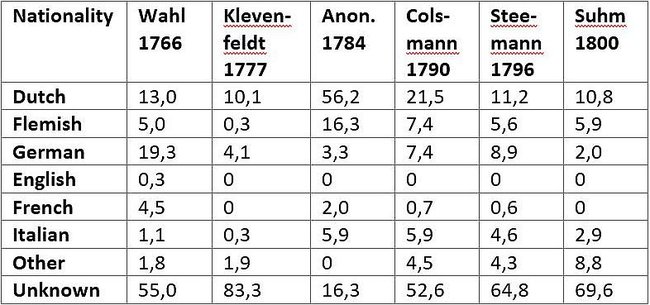 3
Breakdown by provenance (in %)
---
Notes
1 Auction Copenhagen 22 April 1745: Morten Seehuus; Auction Copenhagen 14 June 1745: Sal. Justitz-Raad og Lands-Dommer Peter Benzon Mylius; Auction Copenhagen 27 March 1754: Hr. Assessor Tycho de Hofman; Lugt no. 1510, auction Copenhagen 10 March 1766: Johan Salomon Wahl; Auction Copenhagen 24 November 1777 : Dn. Torkillus de Klevenfeldt Daniae Norvegiaeque Regi à Conferendis. For the Klevenfeldt collection, see also: Eller 1971, pp. 12-13.
2 Tycho Hofman, Leben einiger wohlverdienten Dänen, in einem Versuche dargestellet, o. O. 1741.
3 Lugt no. 3709, auction Copenhagen 16 April 1784: Abraham Peltes; Lugt no. 3697, auction Dendermonder (Du Caju) 26-27 March 1784: Ludovicus Andreas van Hoecke[n]; Fortegnelse paa Deel Malerier, Haandtegninger, Studia, Kobbere, Böger, samt adskillige Maler-Redskaber m. v. som. afgangne Professor og Hof-Maler Johannes Mandelbergs Enke-Frue Mandagen den 20. Novbr. förstkommende [unleserlich] folgende Dage om Formiddagen Kl. 9 [unleserlich] ved offentlig Auction lader bortsælge [unleserlich] hendes Værelser paa Charlottenborg-Slot [?], imod contant Betaling eller naar paa-fordres til Procurator Sewerin, boende i No. 4 udi Klædeboderne. Thi ville de Lyfthavende paa bemelte Tid og Sted sig behagelig indfinde. Kiöbenhavn 1786. Trykt hos J. F. Schultz. Kongl. Universitet-Bogtrykker; Verzeichniß einer guten Samlung Cabinet und Gallerie Gemählde, gröstentheils von den besten Niederländischen Meistern, ausser einer Danae in menschlicher Größe von Titian; so auch ein Theil Kupferstiche unter Glas und Rahmen, nebst Portraits und historischen Stücken in Gibs etc. Ersamlet und nachgelassen von den Seel. Herrn Doctor Colsmann, Prediger an der Reformierten Kirche in Copenhagen, welche den 30. Septembr. 1790 öffentlich in des Seel. Behausung in Aabenraa No. 266. verkauft werden sollen. Die Bezahlung wird auf Anforderung erlegt an Rathmann Wosemoese, wohnhaft in der Gotterstrasse No. 21, woselbst wie auch auf der Auctions=Stelle diese Verzeichnisse zu haben sind. Die 2 letzten Tage vor der Auction können die Liebhaber die Samlung beliebig besehen. Gedruckt bey C. F. Holm. (Lugt no. 4629); Lugt no. 5437, auction Copenhagen 20 April 1796: Nicoalai Steemann; Lugt no. 6053, auction Copenhagen 7 April 1800: Peter Friderich Suhm and Christiane Becker.
4 Eller 1971, p. 12 and pp. 248-253.